Gitana Rosa Gallery presents:
"Soft Stories"
An Exclusive Online Exhibition by
Laura Jane Petelko
Laura Jane Petelko
Until the Moment Comes, 2018
"Soft Stories" will be on view online through our partner Artsy.net
May 15th – June 15th, 2019
Click here to view the full exhibition
Gitana Rosa is pleased to present a new artist in our lineup. Laura Jane Petelko is a Canadian artist, born and currently based in Toronto, Canada. Her work has been recognized and exhibited in Toronto, Vancouver, Seattle, Miami and New York.
"Soft Stories" is an ongoing series presented as large, plexi-mounted c-prints available in a very limited edition. Laura Jane's work has been known for its personal and intimate subject matter, often dealing with the nature of one's identity and times of transformation. We connected with the artist to ask her a few questions about her work and "Soft Stories" in particular, in honor of her online exhibition with Gitana Rosa.
GR: Tell us about your art-making process. Why did you choose your current medium?
LJP: Photography, like music, has always been a huge inspiration for me. I grew up around film and photography. I really lived in my imagination as a child. Music is a huge co-conspirator for me creatively.
GR: How would you briefly describe your current body of work?
LJP: My project "Soft Stories" is an ongoing photographic project and collaboration with costume designer Sara Wood. The images explore humanity's longing to connect with nature and one another. The current work has been photographed in pristine and remote Canadian landscapes. We question whether these creatures have found belonging in their acrylic costumes. Are they attempting to replicate and commune with nature; are they finding true connection through the artificial?
We've been working on "Soft Stories" for the past two years. I've been collaborating with Sara to create lush and fairytale-like creature costumes. The project is inspired, in part, by a conversation about the "furry" community. It got me thinking about our desire to connect with one another and to seek our true natures. Through this project I'm thinking about the many ways, sometimes beautiful ways, we seek this connection. I'm looking at how we take this journey in a time of unprecedented loneliness and disconnection with nature.
GR: What's been your most meaningful project or work of art so far?
LJP: I feel like all of the projects I've worked on have been so intimate and meaningful for me at the time. Many have been raw and difficult. But I have to chose the one I'm working on now because I'm so immersed. Most of my past work focused on other's individual stories. "Soft Stories" is  more broad, and the creative scope is larger than anything I've done before. It's a bit daunting sometimes, but in a way that inspires more commitment from me than I've experienced before.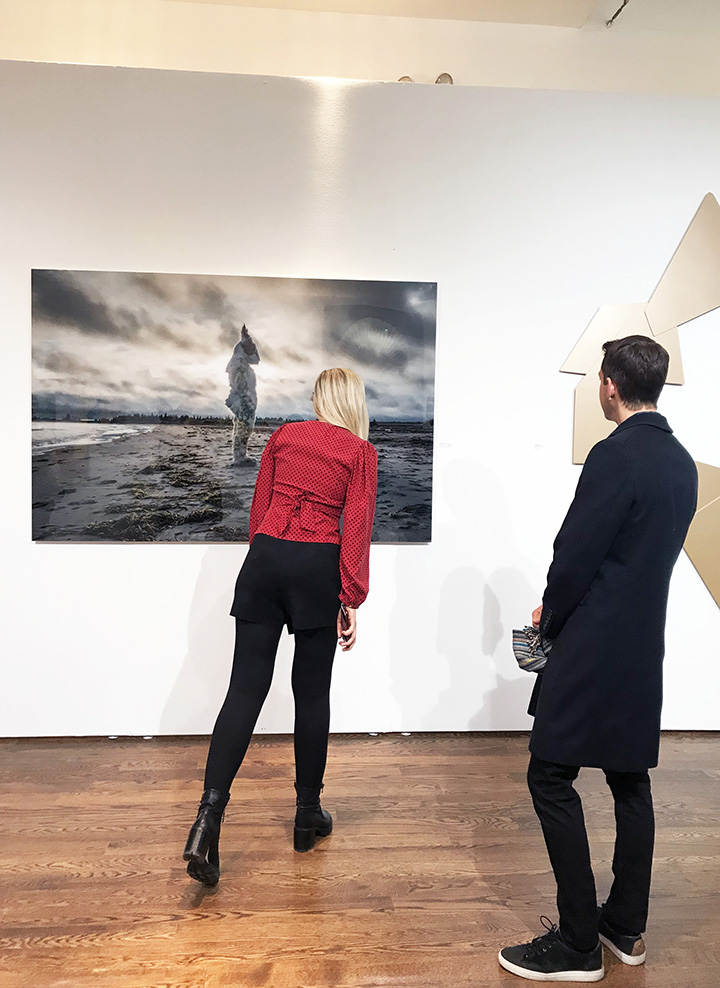 GR: Do society, current events, or the nature of the art market influence what or how you create? If so, how?
LJP: In terms of society, I think my project is really informed by this idea of disconnection. I'm wondering how we connect to each other through the plastic and artifice and trying to confront that through something of a fairytale. I'm trying not to be informed by the art market… but that may change. I'm trying to connect.
View Gitana Rosa's online exhibition of "Soft Stories"
For more information or press inquiries please contact:
Vanessa@gitanarosa.com
t: 323-559-2383