Exhibition on view: Dec 1 – Dec 4, 2021
FOR IMMEDIATE RELEASE
Media Contacts: Vanessa Liberati | Arnel San Pedro
Phone: 323.559.2383 | 323.823.0588
Email:
vanessa@gitanarosa.com
|
arnel@unparalled.productions
"Know Going Back" U.S. Art Tour Featuring Tom Franco, Alan Chin and the Grateful 8 to 10 | Transformative Live Bus Painting and Art Market at AxelBeach Miami Hotel Art Basel 2021
The "Know Going Back" U.S. Art Tour will be arriving at Miami Beach for Art Basel Miami Art Week and creating its final masterpiece, the painted school bus at AxelBeach Hotel, 1500 Collins Ave, Miami Beach from Wednesday, December 1st through Saturday, December 4th. Along with the Bus Art Activation will be an open air art market that will include various artists showcasing and selling artworks and installation pieces. Open to the public from noon until 7pm. There will be a sponsored open bar with Wodka Vodka, Harleston Scotch, Santa Teresa Rum, Topo Chico Mineral Water and Fever Tree Mixers each day from 3-5pm. All are welcome to join us in witnessing the magic happen as the bus gets transformed into a tangible moving art piece. Other art pieces will also be for sale. Ending the week long event will be a private VIP reception from 5:30 until 9pm at the famous SkyBar Miami at the AxelBeach Hotel.
In addition to the AxelBeach event, the Grateful 8 to 10 will be exhibiting at Spectrum Art Fair located at Mana Wynwood Convention Center, 318 NW 23rd St, Miami. There will be two murals especially created for the fair and various mixed media ceramics and paintings for sale. Opening VIP reception is Wednesday, Dec 1st from 5-9pm with Topo Chico sponsoring our Booth #S-610. Public hours are from Thursday through Saturday, 12-8pm and Sunday 12-6pm.
The "Know Going Back" U.S. Art Tour is a collaborative initiative inspired by Tom Franco and Alan Chin. The extended group goes by the name The Grateful 8 to 10 as a play off of road trips from the 60's when the country experienced a cultural revolution in connectivity amongst local communities. Art is the method for this group to meet new people, institutions, events and happenings. Known for their spontaneous and radical inclusion, the artists make a point of showing the public behind the veil of the art making process, and involve community connection as inspiration for making artworks. All mediums are utilized in any given venue, especially ceramics, found objects and paint. Video is the means to share these moments with a larger audience.
For this extended tour, 30 cities are scheduled, with 15 of those being established art institutions, and 2 major shows at the Canton Museum of Art and a culminating momentum at Miami Art Week, Art Basel.
Participating Artists:
Tom Franco, Alan Chin and Rayoliver, Iris Franco Torres, Carlotta Guerra, Hailey Holden, Colin Hurley, Jessica Jordao, Alex McAdoo, Pan Pantoja, Zhubin Rahbar, Albert Soratorio, Chelsea Stephen, Rory Terrell, Axel Wilhite, Kyle Heinly, Kimyon Huggins, Ruvan Wijooseriya, Alice Mizrachi and Joel Blenz aka TRAP IF, Elena
About Alice MIzrachi
Artist and muralist Alice Mizrachi is one of the artists featured at this live event adorning visitors with henna designs. Alice will also have a limited edition on paperworks available.
About Joel Blenz aka TRAP IF
Graffiti writer and fine artist Joel Blenz aka TRAP IF is one of the artists featured at this live event showcasing a series of paper works, two abstract works on wood, small trains, tees and pins. This legendary graffiti writer will be present and available to tag blackbooks.
Sponsors for "Know Going Back" U.S. Art Tour 2021
Event sponsors this year are AxelBeach Miami Hotel, Wodka Vodka, Harleston Scotch, Topo Chico, Fever Tree and Ivan Parron Law.
About AxelBeach Miami
A concept that goes beyond heterofriendly. Axel Hotels is a hotel chain focusing on the LGBTQ community. But above all, it is a free space where diversity and anyone without prejudice to their sexual orientation is well received, valued and respected.
About Spectrum Miami
Spectrum Miami is a curated art fair presenting 150+ independent career artists, studios, and younger galleries that are pushing the boundaries in surprising and significant ways. Taking place amidst Miami Art Week, Spectrum Miami offers the unique opportunity to talk to the artists, learn their stories, and take home pieces you love.
#####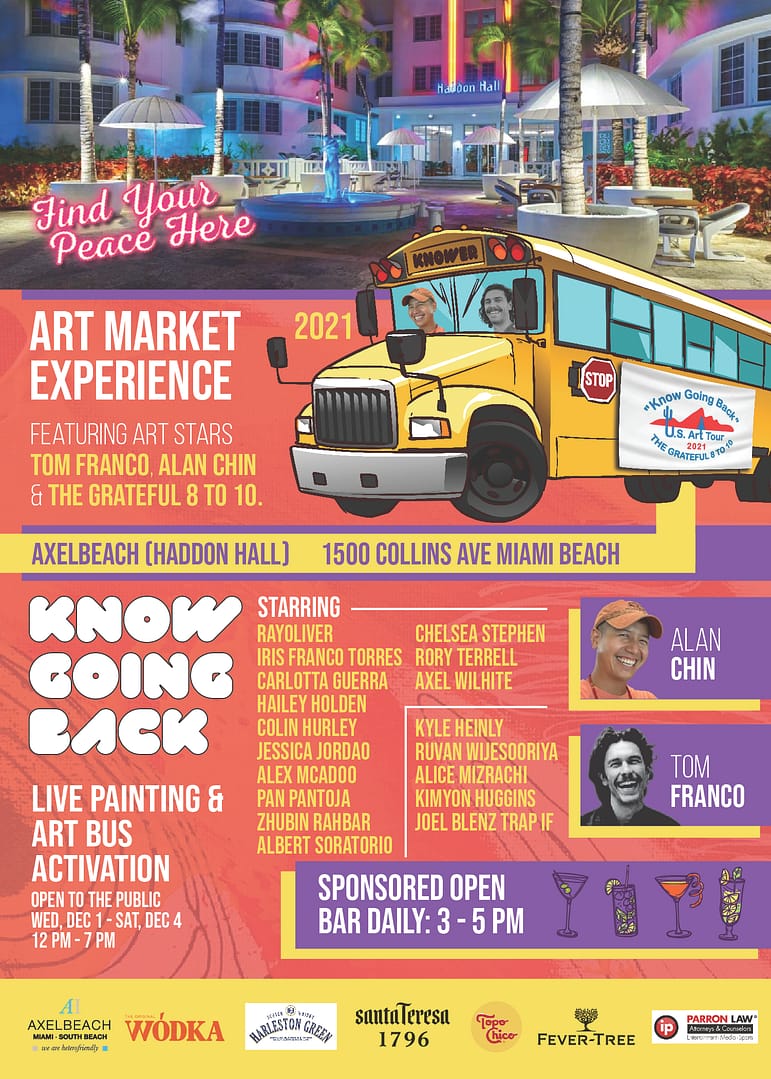 For Additional Information