Gitana Rosa is pleased to announce a new limited edition run of prints by artist Claire K. Stringer. Claire's solo exhibition It's Not Funny in 2007 was one of the first shows to debut when Gitana Rosa Gallery originally opened its doors on Hope Street in Williamsburg, Brooklyn. We're thrilled to have Claire and her work back with us, and to offer this edition of her new painting Forest Fresh.
Click Here to Purchase Forest Fresh
Eighteenth and nineteenth-century European paintings of "Amazones" riding side saddle through forests in their magnificent skirts have been inspiring Claire and sparking her imagination for a couple years now. They were the wellspring images for her current series Ama-Zone. The Ama-Zone is an imaginary land that Stringer uses as the setting for her exploration of feminine and equine archetypes, myths, and legends, including some of her own invention.
Claire's ultra-vibrant painting Forest Fresh is part of this series. It features a dark-haired, mysterious equestrienne in an antique riding habit who appears in other recent works. Rider and horse are heading into a dense forest populated by trees that advertise themselves as natural elements that humanity finds delightful. But in actuality, there's nothing natural about these oversized paperboard cutouts that are normally found hanging inside a car (AKA a steel horse) emitting powerful chemical perfumes. The horse looks back towards the warning sign outside the forest, but the rider is focused directly ahead, on the golden path that becomes eclipsed not far ahead.
Two wild hares spar on the side of the path, also disregarding the wooden sign. From the foreground, the taxidermy framework of the famous horse Comanche looks on. Perhaps his skull is smiling in amusement at the folly playing out around him. Comanche was a horse who is purported to be the only survivor of Custer's detachment of the U.S. 7th Cavalry at the Battle of the Little Bighorn.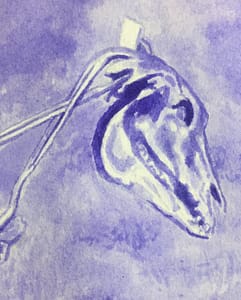 Forest Fresh calls up historical references and places them in the context of contemporary psychological, social, and ecological concerns. Stringer enjoys the play between what is considered real or natural and what is fake or artificial. Her work often balances weightier issues with irony and a sense of humor.
"I absolutely dread getting into a car with chemical air fresheners." Claire says. "They trigger allergies and asthma for me, but the colorful tree shapes with text also have an undeniable pop appeal. I lived in Los Angeles, and it has a famously car-focused culture that ironically clashes with the image of California as a frontrunner in the Green Revolution. I got thinking about these air fresheners as a symbol for all the places where humanity is devastating the natural world while purporting to love and cherish it. I think a lot about how our species can and should face the existential crises of climate change and environmental pollution. It often seems like an absurd and unsolvable enigma, which I think Forest Fresh reflects."
Gitana Rosa's limited edition prints of Forest Fresh are on Hahnemühle Photo Rag 100% Cotton museum quality paper. Each print is signed by the artist. The paper measures 17"x 22" and the image itself measures 14.7"x 20". Claire's original painting is mixed media on Arches watercolor paper and measures 22"x 30". There will only be 15 of these prints, order yours below.