We wanted to reach out and thank you for visiting us at our gallery at Scope Miami Beach, we had an amazing time seeing all of you, meeting new collectors, and friends. If you joined us at the Scope Fair for Art Basel in Miami Beach, our featured artists, Joel Blenz and Alice Mizrachi have created a special artwork that was raffled, and gifted to two lucky winners!
If you got caught up in the whirlwind of Miami Art Week and could not see the works in person, I invite you to view our exhibited work catalog. If you are interested in collecting any of the works, we offer complimentary shipping to our subscribers!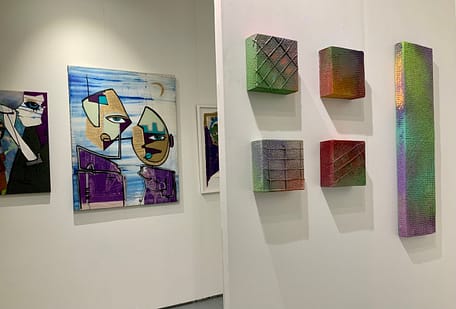 We also invite you to share your memories on Instagram, Facebook, and Twitter, using the hashtag #gitanarosa #scopemiamibeach, tag us @gitanarosa, @am_nyc, and @joelblenz. We look forward to seeing you next year! 
Thank you to everyone that entered our raffle @gitanarosa gallery @scopeartshow this year! We appreciate everyone who came by, showed love, and supported our work. This year's raffle winners for an original drawing by @am_nyc are Roberto & June! #miamiartweek2022 #artbasel2022 #supportlivingartists
Online Catalog
PDF
About Joel Blenz aka TRAP IF
Graffiti writer and fine artist Joel Blenz aka TRAP IF will be showcasing a series of mixed media paintings. A native of Queens, New York, Blenz is a painter working in conversation with textured surfaces, blending and writing as it is defined in the context of graffiti. His current mixed media work has found its form and language through a transitional period; one where Blenz' work evolved from primarily a street based practice into a studio practice. The studio as a meditative site has emerged as a counterpoint to the adrenaline of street based art making, offering a context for the reflection and evolution of a painting style developed over multiple decades of work as a graffiti artist.
About Alice Mizrachi
Artist and muralist Alice Mizrachi is one of the artists featured at this live event. Alice will showcase limited edition on paperworks available, mixed media, and sculpture. Alice Mizrachi is a New York based interdisciplinary artist and educator working in the mediums of painting, murals and installation. Her work explores the interconnectedness of individuals and community through the dual lens of compassion and empathy. Through figurative work that reinforces both personal and community-oriented identity, Alice aims to inspire creative expression and a sense of shared humanity through art.
About Gitana Rosa Gallery
Founded in 2006 by Vanessa Liberati, Gitana Rosa represents contemporary art by emerging and established artists encouraging social, political and environmental discourse. From its inception, Gitana Rosa has integrated those values in the gallery's programming through the use of post-consumer recycled paper and soy-based inks for marketing collateral, wind power and energy-efficient LED lighting, and the creative reuse of upcycled building materials and furnishings. Vanessa Liberati also donates a portion of sales to organizations such as One Percent for the Planet, The Nature Conservancy, World Wildlife Fund, and the Human Impacts Institute.
After producing countless widely-praised exhibitions in the gallery's spaces in Brooklyn, Chelsea, and Piermont, NY, we are now based in Miami, FL. Continuing our mission to facilitate a meaningful interaction between artists and communities, the gallery acts as a hub for artist profiles and interviews, as well as online exhibitions and the sale of limited editions and original works.
The Gitana Rosa team's current program encompasses curated events, selected art fairs and provides art advisory services. We connect with an audience that expands far beyond the walls of a single gallery and will continue to provide space to stimulate dialogue, promote sustainable methods of living, and inspire positive ideas.
#####
Visit our website
Thanks for reading. See you soon!
Gitana Rosa Team